 RETAIL PRICE: $600.00 - AVAILABLE AT RETAIL LOCATIONS ONLY Introducing the SitnStand for Wheelchairs - the ultimate sit-to-stand lift chair designed exclusively for wheelchair users! *Wheelchair is not included
View more

Designed with Your Independence in Mind
Regain a grasp on independent living, with SitnStand for Wheelchairs. This lift chair for the elderly and those who use wheelchairs to assist in daily mobility is a must-have wheelchair accessory for those looking to sit down and stand up from their wheelchairs, safely and independently. Now, you can transfer yourself to and from your wheelchair and comfortably navigate your home, the outdoors, and beyond, with grace, dignity, and confidence.
Always Present, Never Felt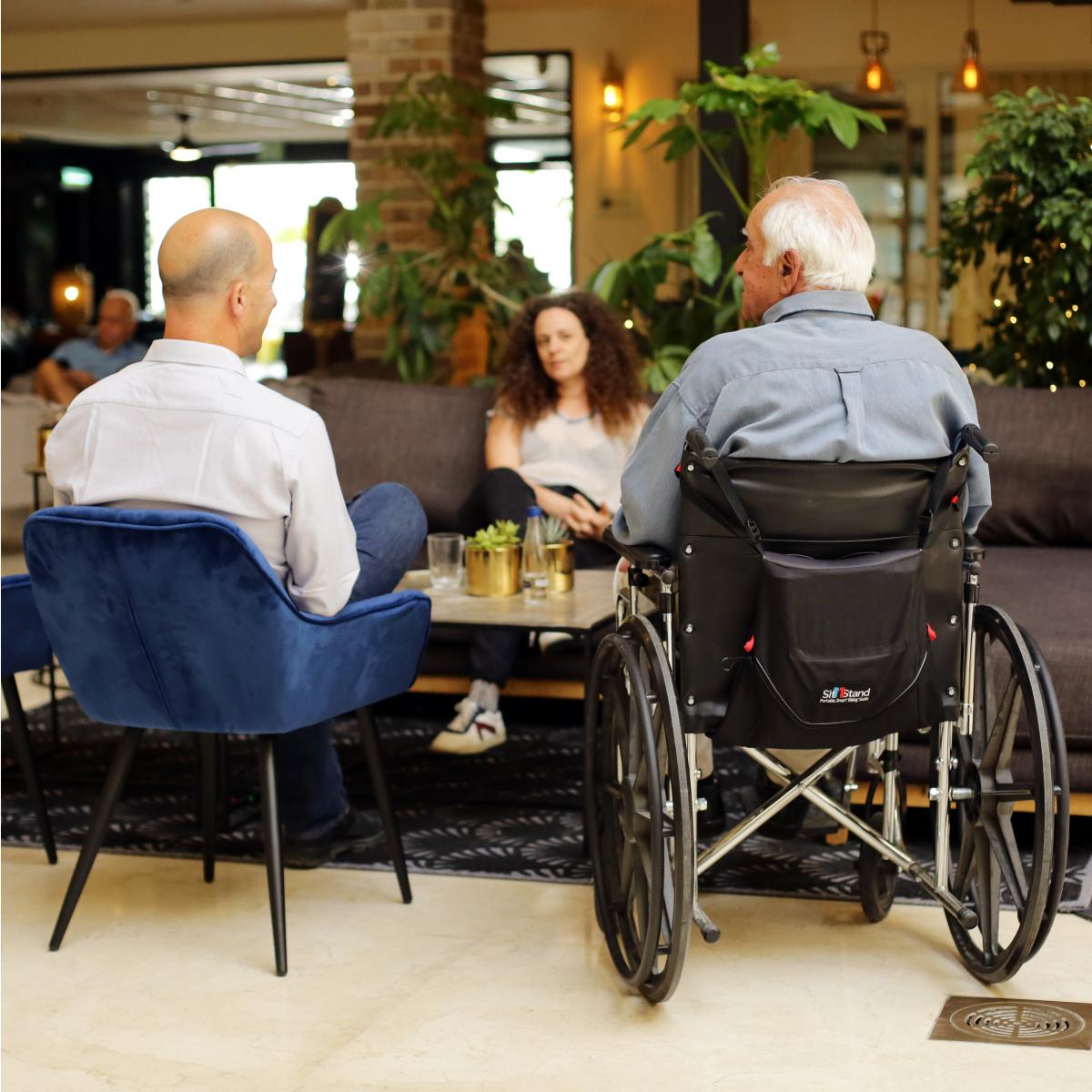 One of the greatest concerns regarding wheelchair accessories is whether they are comfortable enough to use, without creating friction, or having to be installed and removed, over and over again. SitnStand for Wheelchairs is the ultimate lift chair for wheelchair users; you can go wherever you want, whenever you want, without worrying about how you'll get up and down, and without so much as feeling the wheelchair transfer aid, as you go about your daily activities.
The sit/stand chair that molds to your form
No more shifting in your seat or rubbing sore spots after a trip to the doctor or the park. Made from viscoelastic memory foam, SitnStand for Wheelchairs promotes comfortable sitting, for hours on end. Now, you can take on the town, fully confident that your wheelchair and its accessories will help you have an enjoyable, comfortable, and maximally independent day.
The lift assist your caregivers have been waiting for
The transferring of wheelchair-bound people from wheelchair to bed can be a physically strenuous procedure, but with SitnStand for Wheelchairs, your caregivers can stand back, care for their backs, and watch as you perform an independent transfer from your wheelchair to your bed. It's the wheelchair transfer solution that you've all been waiting to apply!
The SitnStand smart, portable rising seat was designed to promote mobility among people who are challenged in transitioning from sitting to standing positions, due to aging, chronic illness, or disability, empowering independence while reducing the risk of falls and injury.
FAQ
Is there a weight limit to the SitnStand? Is there a product for Bariatrics?
The SitnStand for Wheelchairs' weight limit is 400 lbs – 180 kg. Currently, we do not supply a SitnStand product for bariatric patients. If you are in the market for such a product, please contact us. We'd love to learn about relevant details and see if we can help. Please leave your comment below, or email us at info@sitnstand.com.
Does the SitnStand for Wheelchairs require a closed electricity socket?
No. The SitnStand for Wheelchairs operates with a unique lithium battery. The battery needs to be charged every 4-7 days. Charging the battery takes approximately 4-6 hours. It is recommended to charge the battery overnight, when the SitnStand for Wheelchairs is not in use.
Is the SitnStand suitable for pressure ulcers (pressure sores)?
The SitnStand for Wheelchairs comes with a very comfortable viscoelastic cushion that disperses pressure across the pelvis. That said, if you are at high risk for developing pressure sores, please consult with a medical professional, before using SitnStand for Wheelchairs.
Is there a SitnStand with a waterproof cushion?
The SitnStand for Wheelchairs is not to be used in a wet room. The SitnStand's for Wheelchairs cushion is sealed against air and water, but its fabric cover is not waterproof. They are working on a removable cover that will be waterproof and washable. If you are interested in knowing when it will be released to the market, please fill out our contact form below to get notified.
Often bought with SitnStand Wheelchair Portable Seat Lift
Rechargeable Battery: Last for 4-7 days
Safe Horizontal Lifting
Simple to Use: With full control